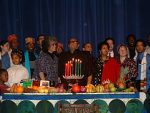 Rohatsu, Kwanzaa, Ramadan, Christmas, Hanukkah, and Yule. Most of us have some big plans brewing to make happy December holidays for the kids we love.
What makes a holiday experience thrilling?
Its impact on the human spirit or soul.
Because the memories of  "giving experiences" remain vivid long after toys break or fade away.
Because, as Bono said, "love needs to find form, intimacy needs to be whispered. It's actually logical. Essence has to manifest itself. Love has to become an action or something concrete."
One family's story:
When my daughter passed away at the age of 7 her brothers wanted to do something to help other children who are ill and stuck in the hospital or in bed at home, so we gathered books together and took them to the office of the Palliative care team that took such good care of my daughter and our family.