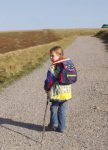 The 4th Annual Backpack Blessing took place in a Georgia church at the start of this school year.  The event involves taking your backpack into church, suggesting that God's presence moves into all spheres of life.  A staff member told The Huffington Post that the blessing is meant to engage kids in the concrete reality of their lives, and to narrate that God is with them.
A symbol of God's presence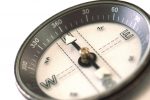 In addition to the blessing, each child was handed a compass as a sign of God's presence in their daily life. The blessing given went something like this:
Bless these children and youth and their backpacks as they begin another school year. Keep them from fear. Guide them in the ways of justice and truth. When they are in new places and with new people, help them to remember that you will never leave them. May they always know that they are your children in the world.