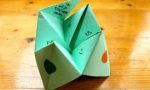 I remember playing the fortune teller game as a kid. We would take a piece of paper, write dreamy messages and fortunes on it, then fold it origami-style to predict our future—you will be rich, you will be famous.
Now I try to bless the children in my life with words that picture a future filled with hope.
It's different from predicting their future, but it can transform the way the future unfolds for the child. Dr. John Trent writes, "With words of a bright future they can begin to work on a particular talent, have the confidence to try out for a school office, or even help guide others into the full potential God has in store for them." They begin to believe in the positive, hopeful future you paint for them.